Services
Agassiz & Odessa Mutual Insurance Company can provide a complete package of insurance for the following types of policies.
Farm
Home
Tenant
Personal Liability
Farm Liability
Inland Marine
Equipment Breakdown
Policies can be packaged with Grinnell Mutual Reinsurance Company or North Star Mutual Insurance Company.
Fire Extinguishers, Surge Protectors and Water Alarms are available for sale or can be ordered. Fire extinguishers can be dropped off at our office to be refilled.
Operating Territory
Big Stone, Chippewa, Grant, Lac qui Parle, Pope, Stevens, Swift, Traverse and Yellow Medicine Counties.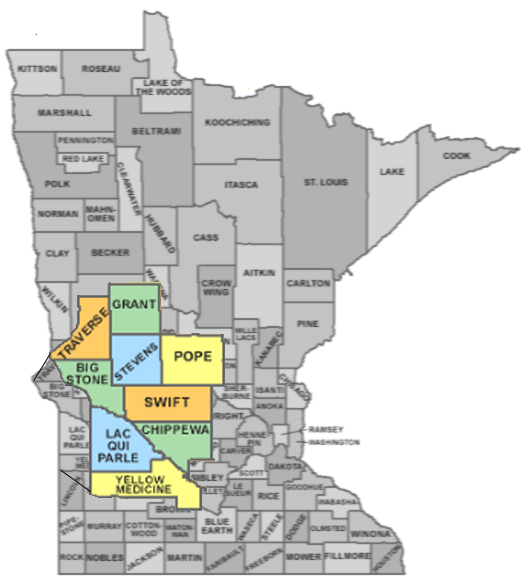 Agents
Bremer Insurance Inc


701 Atlantic Ave
Morris, MN 56267
Phone: 320-589-1026
FAX: 320-589-1462

Minnwest Insurance Inc.


PO Box 390
Dawson, MN 56232
Phone: 320-769-2280
FAX: 320-769-2362

Clinton State Agency


PO Box 364
Clinton, MN 56225
Phone: 320-325-5400
FAX: 320-325-5107

Minnwest Insurance Inc.


PO Box 409
Montevideo, MN 56265
Phone: 320-269-2535
FAX: 320-269-2532

F & M Agency Inc


PO Box 188
Clarkfield, MN 56223
Phone: 320-669-4431
FAX: 320-669-7470

Minnwest Insurance Inc.


PO Box 146
Ortonville, MN 56278
320-839-3928
FAX: 320-839-3071

Farmers & Merchants Inc Agency


PO Box 300
Appleton, MN 56208
Phone: 320-289-1454
FAX: 320-289-1743

Security State Agency of Beardsley Inc


PO Box 187
Beardsley, MN 56211
Phone: 320-265-6124
FAX: 320-265-6153

Hottovy Agency Inc


PO Box 226
Morris, MN 56267
Phone: 320-265-6124
FAX: 320-589-3306

Stolpman Ins Agency


PO Box 277
Bellingham, MN 56212
Phone: 320-568-2101
FAX: 320-568-2102

The Kindt Agency


113 NW 1st St
Ortonville, MN 56278
Phone: 320-839-6145
FAX: 320-839-6221

Stolpman Ins Agency


PO Box 278
Big Stone City, SD 57216
Phone: 605-862-8122
FAX: 605-862-8393

Klein Insurance


PO Box 164
Madison, MN 56256
Phone: 320-598-3979
FAX: 320-598-7822

Lange Associates


1402 Atlantic Ave
Benson, MN 56215
Phone: 320-843-2272
FAX: 320-843-2252